Grootnek Guest Farm lies along the popular Cape Route 62 that runs through the southern provinces of Western and Eastern Cape, South Africa. The R62 serves as an alternative 'scenic' route to the N2 Highway, and links the small farming towns to the bigger centers from Cape Town to Port Elizabeth. The route is an endless source of wonder whether you plan to take part in the many activities on offer or simply take advantage of the breathtaking scenery and explore the historic buildings and churches.

The area surrounding Grootnek Guest Farm is known as the Langkloof, or the 'Fruit Route' and boasts a feast of attractions to the avid traveler. The farm is situated between the towns of Joubertina and Krakeel, a typical example of the historic villages in the area that are still largely unaffected by modern day stresses. The people of this area prefer to spend their days honing their craft, from farmers to local artists.
The Langkloof, which means 'long ravine' houses a variety of natural wonders, spectacular scenery and great hospitality. Your trip to the Langkloof filled with hiking, horse riding, fishing, caving and exploring will be perfectly complimented by the comfortable simplicity of the farm life experienced at Grootnek Guest Farm.

Nature-loving guests can also look forward to visiting the nearby Baviaanskloof Wilderness Area. This popular world heritage site, which stretches over 200km, is home to the truly unspoiled elements of nature that Southern Africa has to offer. Travelers are offered the opportunity to take part in many eco-recreational activities within this conservation area while experiencing nature face to face.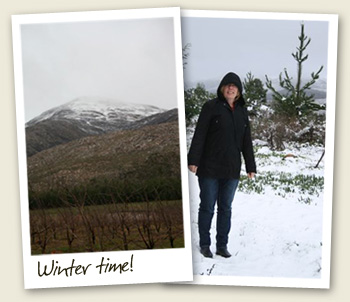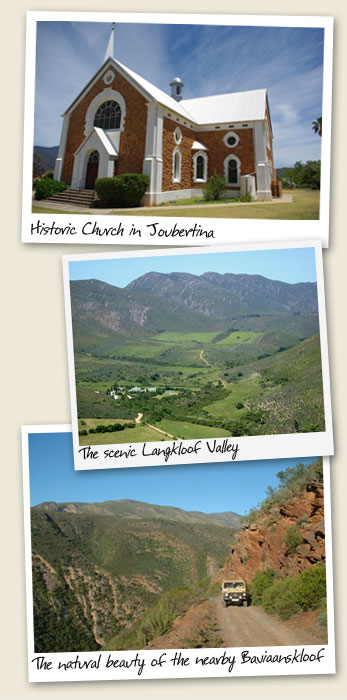 During winter, snow sometimes falls in the Lankloof area. To the left are a couple of photos taken during winter 2010. The photo on the left was taken from the farm, with the snow capped Tsitsikamma mountains in the background. The second photo was taken about 50kms from Grootnek.

Nearby restaurants include The Belfry, The Ark, The Kontrei Kombuis and The Klip Hotel.