Rates:

Adults R300 per person per night
Children under 12 years R150 per child per night

Minimum rate per cottage per night R600

Cancellation policy: Should the booking be cancelled, no refunds or deposits will be given, however we will transfer the booking to another available date.

(Rates are subject to change without prior notice.)

Contact Details:

Phone Erika: 084 500 0706
or Gawie: 082 550 2831

Email: grootnek@telkomsa.net

GPS co ordinates: 33° 49' 48.33"S and 23° 46' 18.96"E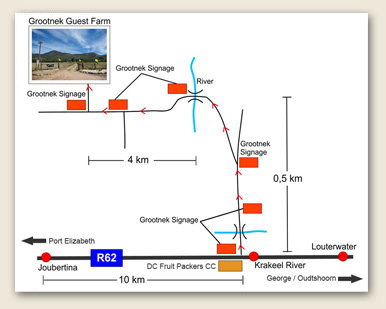 Click on map to view and print.